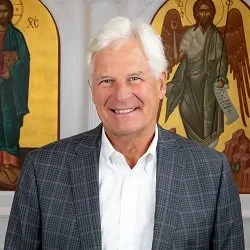 Ministry Leadership
Chris and Wendy Regas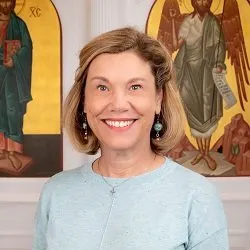 Men's & Women's Bible Study
Men's Bible Study
The Men's Bible Fellowship consists of a group of men seeking to further their personal experience in Christ by joining in fellowship with each other to discover the truths of our faith. To facilitate our journey we study various inspirational and challenging writings of the Fathers of the Church and contemporary Theologins. Deep friendships have developed over time providing a platform for camaraderie and learning from our collective experiences. We welcome men from all Orthodox jurisdictions and anyone who is interested in a journey toward a deeper understanding of our faith in Christ.
Women's Bible Study
Please join us for Fellowship and Learning. Our goal is to grow deeper in our relationship with God and with each other. We do this each week by studying a book of the Bible or a book written by an Orthodox Christian author. We meet each Tuesday at 11:30 am.
Group – Women of all ages
Meeting Times – Tuesdays 10:30-11:30, live in the Cafenio and by Zoom
This ministry is for all women seeking to grow in likeness to Christ while deepening our fellowship and love for one another and for the Church. We will facilitate discussion of Bible study topics and select readings each week, guided by the light of Orthodox Christian theology and practice. Our aim is to encourage one another through shared faith and friendship.
Current start date: Tuesday 9/11/22. 10:30-11:30.
Fall 2022 Study: Engaging God's Word: Ruth and Esther:
https://www.amazon.com/dp/1621940179?psc=1&smid=ATVPDKIKX0DER&ref_=chk_typ_imgT