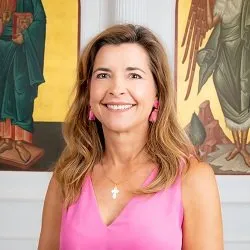 Ministry Leadership
Christine Stavros & Anna Montauredes
Our annual vacation bible school is a five-day summer camp offered to children of our parish and local community who are in Pre-K 3 programs through 6th grade. Under the guidance of our priests, Reverend Doctor Nicholas Louh and Father Sebastian Mot, it is operated by parishioners from our church and focuses on Christ and His teachings through fellowship, faith, music, crafts, and games.
Last year's Jerusalem Marketplace was a big success running for the first time at our new campus on Beach Boulevard, so we are looking forward to another great turnout this year. The new theme we will focus on throughout the week will be the Saints of our Church – the real Superheroes of our Greek Orthodox faith.
Whether you're a camper, a teen volunteer, an at-home-parent, a teacher, or parishioner with flexibility to provide assistance as a counselor/adult volunteer in our many capacities, please save-the-date for June 12-16th. Camp runs from 8:30am-1:00pm. Class sizes will be limited to around 20 students, so be sure to keep your eyes peeled for open registration in March.
Adult volunteers/teachers are very much needed, so please contact Fr. Sebastian ([email protected]) if you are interested, or with other questions concerning VBS.