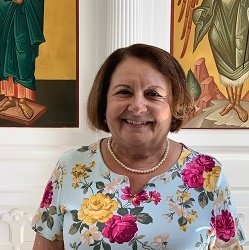 Ministry Leadership
Effie Lasoff
Our name "Philoptochos" means "friends of the poor". For over 80 years, we have been the philanthropic heart of the Greek Orthodox Church of America. Philoptochos exemplifies Christian stewardship, visiting and caring for the sick and elderly, providing for the poor and needy, reaching out to heal infirmities of our changing society, and giving moral support to families torn apart. these are only a few examples of our Christian ministry of love.
Local Ministries
Join Us – Touching someone's life is as easy as sending a card, making a meal, or saving pop tops. We invite you to discover that greater depth of love – a love for others and a greater love for God and His purpose in our lives. You can help in a supportive or active role, whichever fits your schedule. There are many ways to make a difference in people's lives, but it takes many loving hands to make the difference a reality. Join us and help us make a difference in our community. Your involvement of one hour or one day will help benefit our philanthropic endeavors.
Share the Light
The mission of Share the Light is to actively share the love of Christ to those in our community who are facing difficult challenges. Our ministry aims to bring encouragement through prayer, cards, calls, and visitation, and to offer comfort and aid where need exists.
Ronald McDonald House Meals
Ronald McDonald House Meals – Have fun making dinner and cute desserts for those families with sick children that are staying at Ronald McDonald House.
Pop Tops for Ronald McDonald House. Ronald McDonald House wants the pop tabs off your aluminum cans! They'll be recycled for cash to help provide housing for families visiting Jacksonville while their children receive medical care. Just put them in the RMH container on the Philoptochos table in the Church Hall.
Prayer Shawl Ministry
Members of our Prayer Shawl Ministry knit, crochet or sew shawls as they pray for those who are in need of comfort. The shawl is a tangible way for the recipient to feel the warmth and love of our community and the embrace of God's comfort and healing, compassion and peace. If you are interested in being part of the Prayer Shawl Ministry, know someone in need of the comfort of a prayer shawl, or would like to donate yarn, please contact Pam Toundas.
Do you want to make a profound impact on someone's life or even your own? Do you want a purpose
for your talent? If the answer is YES, the Prayer Shawl Ministry is calling you. The best and most powerful gift you can give someone is a prayer. Sometimes that prayer comes in the form of a prayer shawl. The impact of the Prayer Shawl Ministry is three-fold; it impacts the giver, the receiver and the makers of the shawls. A prayer shawl offers hope and comfort to someone going through a trying time and many times is accepted with hugs and tears of thanks from knowing someone cares. A prayer shawl allows the giver a way to offer compassion and minister to someone in need when words are not enough, or words won't come. A prayer shawl gives a God given purpose to an individual with the talent of knitting, crocheting or looming the shawls and enriches their prayer life.
Every one of us makes up the Prayer Shawl Ministry delivering a prayer to someone with each shawl given.
If you are interested in being part of this Ministry:
Take a shawl to someone, anyone (Orthodox or Non-Orthodox it doesn't matter)
Make a prayer shawl, if you knit, crochet or loom or want to learn, join us (Orthodox or Non-Orthodox, all are welcome)
Donate to the Prayer Shawl Ministry so we can purchase much needed yarn.
If a prayer shawl has impacted your life or someone you love, we'd love to share your story with the St. John the Divine family. For questions, comments, stories you'd like to share or to join the Prayer Shawl Ministry, please contact Pam Toundas at [email protected], or the Church Office at 904 396-5383.