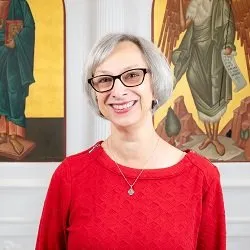 Ministry Leadership
Pam Toundas
Introduced in 1983, the St. John Chrysostom Oratorical Festival provides Greek Orthodox teenagers the opportunity to write and talk about their faith. The Oratorical Festival Program begins at the Parish Level and is divided into two divisions; the Junior Division for students in the 7th to 9th grades and the Senior Division for teenagers in the 10th to 12th grades. The top speakers in each division advance to the district level and if selected become one of two finalists in their division to represent their district at their Metropolis Oratorical Festival. The top speaker in each division is then selected to participate in the Archdiocese Finals, which is hosted by a different Metropolis each year. All eighteen finalists at the Archdiocese Finals participate in a weekend of activities, the highlight of which is the delivery of their speeches on Saturday morning. The Oratorical Festival Scholarship Foundation provides college scholarships in the amount of $2000, $1500, and $1000 to the top three speakers in each division. In addition, those finalists who receive a rank of Honorable Mention are awarded a $500 United States Savings Bond.
Parish Festival
Appointed by the Parish Priest the Parish Festival is organized by an Oratorical Chairperson and Committee. A Parish Oratorical Festival takes place between January and March. Each Parish sends its finalists to a District Festival.
District Level
The District Festivals are composed of parishes in specified areas of a Metropolis. District Festivals take place between March and April and the finalists advance to the Metropolis Festival.
Metropolis Level
The Metropolis Festival takes place between April and May and includes the finalists from each District. The first place Junior and Senior Speakers of each Metropolis, advance to the Archdiocesan Festival.
Archdiocesan Level
The Archdiocesan Festival takes place in early June. All national finalists will receive a college scholarship or a US Savings Bond as follows: The top three speakers in each division receive a college scholarship in the amount of $2000, $1500, and $1000 respectively, and the remaining finalists receive a $500 US Savings Bond. These awards are made possible by many generous donations to the St. John Chrysostom Oratorical Festival Scholarship Foundation.