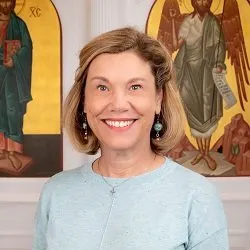 Ministry Leadership
Wendy Regas
Building Foundations of Faith
The overall goal of Orthodox Christian Education is to foster a deep relationship with Christ and the Church while forming friendships that affirm each child as a member of the family of God. Our theme for 2023-2024 is Building Foundations of Faith, foundations that we pray will last a lifetime and provide a platform for continued growth in the "likeness of God": theosis. St. Paul describes this as growing to mature personhood, to the measure of stature of the fullness of Christ (Eph 4:13) and as living and walking by the spirit (Rom 8:4; Gal 5:25). According to the Church Fathers, the goal of formal education is to allow a follower of Christ to come closer to God, to be equipped to spread and defend the Faith, and to act as a good steward of His creation. Oh—and let's have fun doing it!
2nd Sunday of each month: Sunday Funday treat!
Church School Policies:
TIME: Church School will commence with the Communion Call of the Divine Liturgy. The congregation will please allow the Church School Staff and children to receive Holy Communion first. Church School Teachers and students meet outside the church to go together to their classrooms in the ELC. Church school students will be dismissed at 12:10 PM—please try not to interrupt the class earlier. Parents of preK-3rd graders are asked to pick up children from their classroom in the ELC. Older children will dismiss to Coffee Hour. IT IS EXPECTED THAT THE ENTIRE FAMILY BE IN CHURCH AT THE BEGINNING OF THE DIVINE LITURGY AT 10:00 a.m.
ATTENDANCE: Regular and faithful attendance is crucial to the success of our Church School Program. Of course, attendance depends on parental commitment.
Nursery: There is a no formal nursery for toddlers and infants. During Liturgy there is a dedicated room with windows on the nave for parents and toddlers in need of some space. Note: This is a place for you and your child together, there is no attendant.
PreK-Grade 7: Our classes are divided into 2-year groupings, with age-appropriate scripture lessons consistent for all classes. We believe that the primary teaching opportunities for faith are found in the conversation and prayers at home and in the experience of the Liturgy and sacraments of the Church. Our Sunday School program seeks to enrich these through well-planned Bible lessons, crafts, interactive teaching and friendship-affirming fun. Our curriculum this year is 101 Lessons of Scripture, a 2-year program developed by Fr. Evan Armatas. There will be a colorful take-home guide for family discussion to reinforce the lesson each week.
Meet our teachers:
Three and Four year olds: Diakonissa Karen Koloniotis, Presbytera Roxanne Louh, Susan Rizk
Kindergarten – 1st : Zoe Bloodworth, Tracey Bilanin
2nd – 3rd : Robin Dewey, Angela Jones
4th – 5th : Lewis Preddy, Pam Toundas
6th – 7th : Staci Spanos Gibson, Sarahjeane Campbell
8th – 9th : Rose Marie Preddy, Phil Amorgianos
8th and 9th Grade: Rose Marie Preddy, Phil Amorgianos
This class will be centered on catechism and Church history in a 2-year format. The lessons will seek to provide important grounding in the Orthodox world-view and "phronema". It is hoped that this class will bridge from factual explanations of sacraments, theology, dogmatics and liturgics, to the joy of lived experience in the fulness of faith. "We have seen the true light, we have found the true faith, worshipping the undivided trinity!"
10th , 11th and 12th Grade: David Wainer, Presbytera Niki Mot
The teen class will concentrate on "where the rubber meets the road"—faith meets real world questions and decisions. Our view is toward learning how to apply scripture and the wisdom of the Church to decision making as well as to interpreting and relating to current events. The class's main emphasis will be on helping students prepare for their next steps after graduating from high school.
REMEMBER: Our teachers are all volunteers who take personal time from busy schedules in order to prepare and teach our children each week. Please take time to speak with them and express your appreciation…we are in this together, for the children!
FALL SESSION:
August 20 Class 11th Sunday of Matthew
August 27 Class 12th Sunday of Matthew
September 3 NO CLASS 13th Sunday of Matthew
September 10 Class Sunday Before Holy Cross
September 17 Class Sunday after Holy Cross
September 24 Class 1st Sunday of Luke