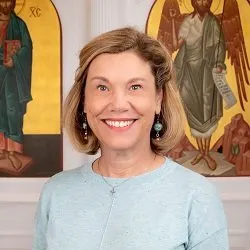 Ministry Leadership
Wendy Regas
The Goals of an Orthodox Christian Education
The overall goal of Orthodox Christian Education is to help bring every person into a life of personal communion with the Holy Trinity (Theosis). The same goal may alternately be described as growing to mature personhood, to the measure of stature of the fullness of Christ (Eph 4:13) or as living and walking by the spirit (Rom 8:4; Gal 5:25.) According to the Church Fathers, the goal of formal education is to allow a follower of Christ to come closer to God, to spread and defend the Faith, and to act as a good steward of His creation. The methodology used to impart spiritual and worldly knowledge must be equally God-centered.
Church School Policies:
TIME: Church School will commence with the Communion Call of the Divine Liturgy. The congregation will please allow the Church School Staff and children to receive Holy Communion first. Church School Teachers and students should then go immediately to their classrooms. Church school student will NOT be dismissed until 12:10 PM. At which time parents are encouraged to pick up their children from their classes. IT IS EXPECTED THAT THE ENTIRE FAMILY BE IN CHURCH AT THE BEGINNING OF THE DIVINE LITURGY AT 10:00 a.m. ATTENDANCE: Regular and faithful attendance is crucial to the success of our Church School Program. Of course, attendance depends on parental commitment. OFFERING: Each child is encouraged to make an offering to God for His Glory. Students will be given envelopes in order to bring their offering each Sunday. YOUTH STEWARDSHIP: Youth Stewardship is a very important program of our Youth Ministries. Like our Community Stewardship Program, the Youth Stewardship Programs main goal is to develop a deep Christ centered commitment in each member of Christ's body to the growth and development of His Holy Church. We ask each young person to reflect on God's many blessings, and to return to him a tenth. We speak in terms of Time, Talent and Treasure; the 3 T's. In as much as this program is primarily didactic, the parish pledges to place all revenues realized from this program into the growth fund, as a trust for their(our) future. Nursery: There is a nursery for toddlers and infants 3 years old and younger. This is a place for you and your child to be in together. Please do not leave your children unattended!
Three and Four years old
The goal for this year is to start he pre-schooler on the path to knowing God. They will use various books and methods to help guide our children towards the goal of knowing God. Aspects of worship and stories from scripture highlight specific examples of and reasons for joy centered on Christ.
Kindergarten and 1st Grade:
This class seeks to build upon the foundation that was laid down from the previous year. Various books and material will be used to concentrate on having the children begin to understand right, wrong and forgiveness in the light of God's love. The children will also learn the importance of loving God unconditionally and also about respecting people, taking care of the environment and about doing good in His Name.
2nd and 3rd Grade:
Students will learn about sharing through the examples of Jesus and are inspired to observe these same examples in the Divine Liturgy, the Sacraments, and other Services of the Church. From there they become caring and sharing individuals.
4th and 5th Grade:
Stories of the Lord are told with contemporary writing and Biblical illustrations. The Parables of Jesus offer basic truth for applications to daily living. Upon completion of each section taught, there is a discussion with questions.
6th and 7th Grade:
Young teens will be using various study materials to learn about the teachings, miracles, and parables of Christ and are amply represented in the lessons and supplemental discussions concerning the Bible, prayer, Church, etc. The class continues to grow and focus on learning how to use the Bible and knowing the consequences of lying, cheating, and distinguishing right from wrong which are all essential for our youth and their spiritual warfare.
8th and 9th Grade:
This class will be centered on catechism where the class will shift focus from scripture to Church history, sacraments, theology, dogmatics and liturgics. The children will be learning about iconography, the ecumenical councils, and church layout. The focus is to explain to them what they witness in the every day life of the Church.
10th, 11th and 12th Grade:
The teen class will concentrate on further developing their faith by learning how to apply scripture and God's teaching to their own lives and every day problems. In addition, the students will be learning how to deal with modern issues relating to relationships, community, and their relationship with God, etc. This class's main emphasis will be to help prepare them for their next steps after graduating from high school.
Calendar for Sunday School Spring-Summer 2023
April 23 Class Thomas Sunday
April 30 Class Sunday of the Myrrh-Bearing Women
May 7 Class Sunday of the Paralytic
May 14 Class: Sunday Funday: Mother's Day Craft Sunday of the Paralytic
May 21 LAST CLASS of Spring Sunday of the Blind Man
May 28 NO CLASS [PreK only will meet]. Fathers of the First Council
June 4 No Class Holy Pentecost [PreK only will meet]
SUMMER SESSION: Combined classes for 8 sessions
June 11 Class The Sunday of All Saints
June 18 Class 2 nd Sunday of Matthew
June 25 Class 3 rd Sunday of Matthew
July 2 Class [PreK only will meet]
July 9 Class 5 th Sunday of Matthew
July 16 Class Sunday of the Holy Fathers of 4 th Ecumenical Council
July 23 Class 7 th Sunday of Matthew
July 30 Class 8 th Sunday of Matthew
SUMMER Teacher's BREAK:
August 6 NO Class [PreK only will meet]
August 13 NO Class [PreK only will meet]
FALL SESSION:
August 20 Class 11 th Sunday of Matthew
August 27 Class 12 th Sunday of Matthew
September 3 Class 13 th Sunday of Matthew
September 10 Class Sunday Before Holy Cross
September 17 Class: Fall Kickoff Family Luncheon after church
September 24 Class 1 st Sunday of Luke