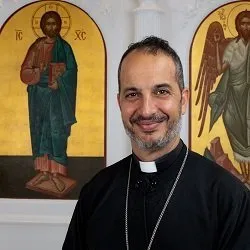 Ministry Leadership
Rev. Dr. Nicholas Louh
Wednesday Night Bible Study
Every Wednesday Night at 6:00 PM, Father Nicholas leads members of our Church Family in a Bible Study beginning at 6:30 PM. We also have a youth and teen Bible study that goes on at the same time as the adult session. Our schedule is located on the Church Calendar. We also begin each meeting with a Potluck, so we encourage participants to bring their favorite meat and dairy free dish!
We recently finished covering the book of Romans and we are now reading C.S. Lewis' Screwtape Letters together.
During Great Lent, however, we begin with Presanctified Divine Liturgy at 5:15 pm so studies will always take place at the Church Cafe.